Loose Diamonds for Customers in Tampa, St Petersburg, Sarasota, Clearwater, Naples, and Across Florida
If you're shopping for loose diamonds, you clearly appreciate the significance of a quality stone and the affect it has on the overall value and appearance of a piece of jewelry. At Anthony Louis Limited in Tampa, we understand the importance of selecting the ideal diamond, which is why we offer a large selection of brilliant loose diamonds, and the expert guidance to assist you in making this important purchase. We also pride ourselves on our personalized service, which includes an initial one-on-one meeting with one of our diamond experts, in which you'll learn more about loose diamonds and how to choose the right one for your unique piece of jewelry. Many of our clients bring their original wedding band or engagement ring and want to upgrade to a larger stone. This meeting allows us to inspect the original band for strength and durability so that we can be sure the new diamond will be a perfect fit and can be safely mounted. You'll even have the opportunity to examine and compare a variety diamonds from our extensive inventory.
We offer loose diamonds to meet a variety of needs for our customers, such as:
Replacement of lost or stolen stones covered by insurance
Placement in an heirloom setting
Custom engagement, wedding, and anniversary rings
And more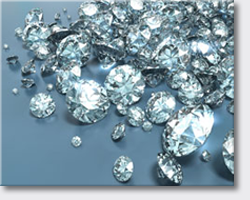 Anthony Louis Ltd. also offers a wide selection of settings for your diamond, and our designers can even customize a special setting to create a piece unlike anything else in the world. In fact, we can customize nearly any type of diamond jewelry, including bracelets, necklaces, pendants, and earrings.
For more information about our loose diamonds and custom diamond jewelry, contact us today. We're happy to assist customers in Clearwater, Naples, Sarasota, and other Florida communities.